13 July 2023
2 Minute Read
How to Plan the Perfect Luxury Spa Experience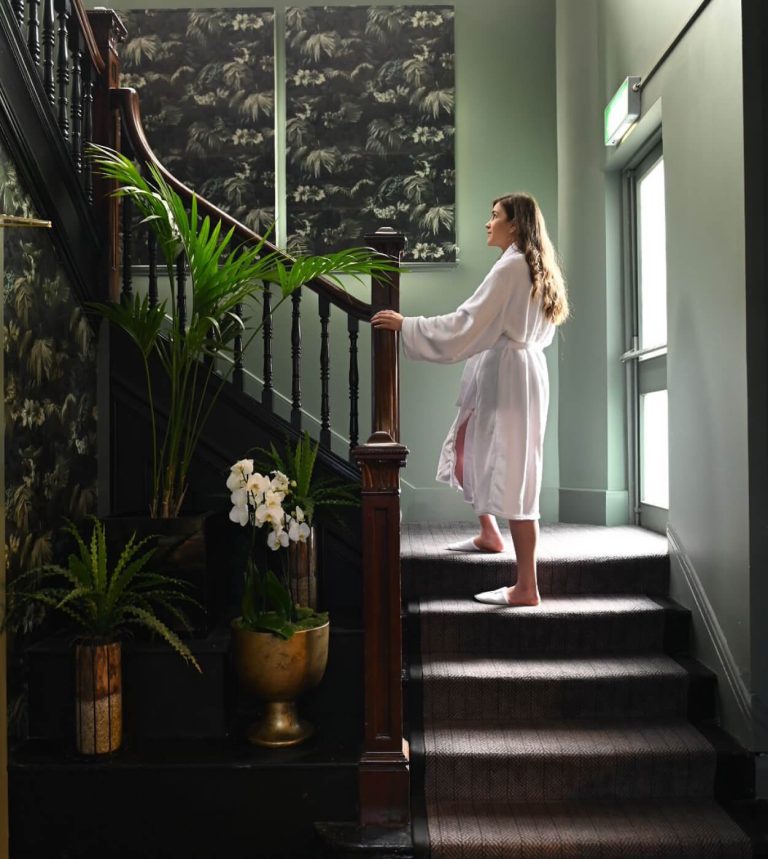 We all hear talk about self-care, but why is self-care so important? Self-care means being mindful of our own needs, taking the time to do things that help us feel well and live well.
Self-care impacts both our physical and mental health as it can help to eliminate or reduce stress, anxiety, and depression. It can also minimise frustration and anger, increase happiness, improve energy and concentration, better our mood and much more.
In other words, self-care is important because when we take care of ourselves and are not stressed then naturally, we are better able to meet the needs of others. Life is a healing journey and it starts with self-care and self-awareness of one's needs.
You can discover a unique sense of tranquillity at Bellevue, a stylish sanctuary nestled in the old west wing at the iconic Montenotte Hotel overlooking Cork city.  Unwind & recharge within a space dedicated to calm both the mind and body, a place where you can escape the constant distractions of daily life.
Bellevue Spa was created in the original Georgian mansion house of The Montenotte Hotel, where we marry old and new values, to bring our guests the ultimate in therapeutic beauty and relaxation.
We created our own product line Bellevue Botanicals, taking inspiration from our Victorian Gardens to honour the timeless scent, capturing rose, lavender and rosemary while delivering therapeutic treatments local to the Irish countryside including carrageen moss and beeswax from West Cork.
Exclusive to Bellevue Spa is Dermaviduals, a product that provides customised skin solutions for every skin condition.
This is a method of repairing the stratum corneum – the outermost layer of the epidermis, to improve the function of the deeper skin layers and prevent and treat many skin conditions, including those who are undergoing cancer treatment.
Planning For Ultimate Luxury Spa Experience
When choosing the right treatments give yourself a few moments to understand where your body needs attention and care. If you are still unsure, you will have time at the beginning of your treatment here at Bellevue and your therapist will advise and customise a treatment just for you! Any indications of poor circulation, sore joints and tension is a clear indication your body needs a full body treatment.
Here at Bellevue Spa, we have many different options as we are blessed with three physiotherapists who can tailor and use a combination of different massage techniques. Relaxing massages can be just a beneficial as deeper pressure massage.
Allow yourself to fully surrender to the expertise of our skilful therapists and allow them to perform a body scan intuitively for instant relief and release of built-up tension.
Reiki is very popular treatment here at Bellevue as we are all energy and emotional beings. All pains, aches or diseases are messengers to inform us that we have energy blockages that need clearing. And we need to bring the body into harmony for increased vitality.
We have three Reiki masters onsite as it can be booked as a standalone treatment or if the client is open and would like to give this try we can add this into your face and body treatment.
Preparing For Your Visit
Preparing yourself mentally and physically before a spa visit will help ensure that your stay goes as smoothly and calmly as possible. Taking the time to ensure you have what you'll need beforehand allows you to be in the moment and make this spa day all about you.
Here are some useful tips to ensure that you have the best experience that will make you eager to book your next visit!
Decide what you want to accomplish through this time for yourself and prepare your mindset for the day.
Your to-do list (and Instagram feed) will still be there tomorrow.
Getting good rest and drinking plenty of water
After you have prepared yourself, all you need to think about is relaxing and unwinding.
Arriving At The Spa
As Bellevue does not have a Thermal Suite,  guests are more than welcome to visit the Motion Health. Club You would arrive one hour prior your start time to use the 20 metre pool, jacuzzi , steam and sauna.
Please check-in to the Spa first and a team Member will escort you to the pool area. If you wish to not use water facilities, then arrive 15 minutes to fill in our consultation form and change into a spa robe and slippers.
Enjoying Your Spa Treatment
Relax fully to enjoy your treatment, such as focusing on your breath or letting go any tension.
Setting your intention to unwind helps you to be mindful of your thoughts, stay in the present and feel more relaxed.
Communicating concerns to your therapist. Our therapists have additional qualifications which can be implemented to personalise your treatment and help you to get the most from it.
After Your Spa Experience
Importance of getting time to relax, drinking plenty of water and avoiding alcohol.
To get your home clean and tidy before going to the spa, as more peace when you come back from your can just chill for the rest of the day and be at peace.
Continue practicing self-care at home such as yoga, listening to body scan meditation before sleep such as Yoga Nidra, you can find them on different apps or YouTube.
Have a dead sea salt or magnesium flakes bath to prolong the effect of treatment
A spa treatment can be a moment of connection. By making a conscious effort to try to surrender to the guided breath work at the beginning of each treatment, you will be more likely to reach deeper states of relaxation.
Allow our multi-skilled therapists to tailor make and customise a treatment according to your needs. If you made it this far, you're now equipped with everything you need to know about how to prepare for a spa day.